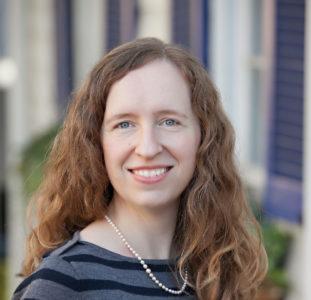 Lee Bullock Schwentker
Specialist
Lee Bullock Schwentker specializes in strategic planning, program management, curriculum development, organizational change, data analysis, and report writing and editing. For 12 years, Lee worked at American University's School of International Service, serving as the school's director of academic affairs from 2008 to 2017.
Lee's recent projects include co-leading the development of a new MA in international affairs, helping to lead and implement a major revision of the school's undergraduate program, and helping to implement a data-informed system for curricular planning and course scheduling for the school's annual offering of 650 courses. During her time at American University, Lee was recognized with two outstanding performance awards, and served on the University's staff council and other campus-wide committees focused on supporting student success and institutional effectiveness. During her final year at American University, Lee was selected to participate in a university-wide leadership program.
Earlier in her career, Lee coordinated an undergraduate research program at the University of Maryland at College Park and served as an analyst on NIH-funded research at Massachusetts General Hospital and Duke University.
Lee holds an MA in Education Policy & Leadership with a focus on higher education from the University of Maryland at College Park and a BA from Duke University, Phi Beta Kappa.