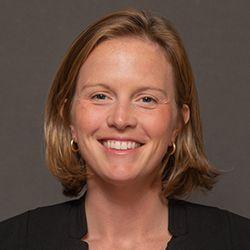 Katie Hagan
Principal
At rpk, Katie leads the firm's Academic Portfolio and Resource Review projects, enabling institutions and systems to reallocate resources to meet the needs of students and employers. Katie also serves on rpk's leadership team.
Prior to joining rpk GROUP, Katie Hagan was a research associate and faculty fellow at the Edunomics Lab at Georgetown University. At Edunomics, Katie worked with state education agencies on implementing key requirements in the Every Student Succeeds Act, including financial transparency and resource allocation reviews. She also supported research on state and district funding formulas, teacher pensions, and other issues related to school finance. Katie previously worked as a policy fellow for a state education advocacy organization in North Carolina, where she led research on principal preparation and high-quality assessments. She began her career in education as a 2011 Teach For America corps member in Las Vegas, Nev.
Katie holds a master of public policy degree from Duke University, a M.Ed. from the University of Nevada, and a B.A. in English from Virginia Tech.
An avid runner, Katie can be found most early mornings with her two dogs, running through the streets of Durham, N.C.