The COVID-19 pandemic has left an indelible mark on the world, with U.S. higher education institutions significantly affected. In response, Congress passed the Coronavirus Aid, Relief, and Economic Security (CARES) Act in March 2020, which included $14 billion for the Higher Education Emergency Relief Fund (HEERF).
Two more rounds of funding were subsequently signed into law in 2020 and 2021, and in total, $77 billion was provided to higher education institutions and students to provide pandemic-related financial support. This support far outweighed the nearly $10 billion in federal stimulus that colleges and universities received to weather the 2008 Great Recession.
This financial support was intended to help institutions and college students navigate the pandemic. However, the question arises: Did colleges and universities use this funding to prop up fragile business models or embrace the opportunity to re-evaluate their current approach and invest differently?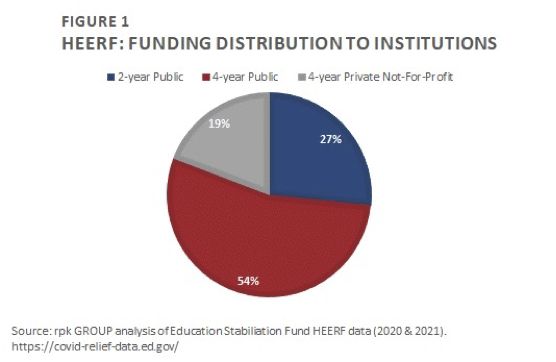 Who Benefited? Most Institutions & Many Students
Nearly all HEERF funding (98%) was allocated to public and private nonprofit colleges and universities. Public 4-year institutions received the largest share (54%), followed by four-year private nonprofit institutions (27%), and public two-year institutions (19%) (see Figure 1).
It's important to note that each round of funding had specific allocations, and when combined, included financial grants to students (40%), institutional expenses (52%), and funding dedicated to minority-serving institutions and activities to strengthen institutional programs (8%) (see Figure 2).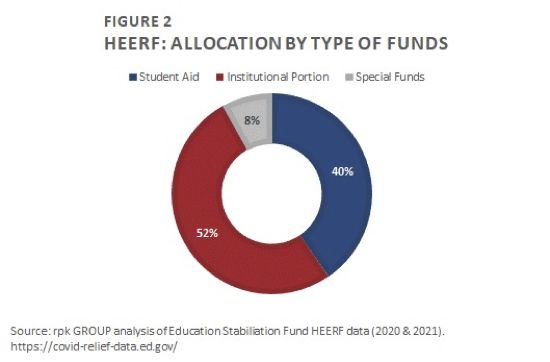 The student aid funding provided grants to assist students with food, housing, technology, healthcare, childcare, or other needs. The institutional portion could be used to defray pandemic-related expenses, such as campus safety efforts, IT infrastructure, instructional design services, and revenue losses from enrollment declines.
Did Institutions Use HEERF to Meet the Moment? Yes, But….
Most colleges and universities promptly distributed student grant aid as required. However, they had more flexibility in determining how to allocate their institution-designated funding. Throughout 2020 and 2021, approximately 80% of institutional funds were utilized for pandemic-related expenses, while around 20% were directed towards supporting students.
However, institutional priorities and strategies shifted over time:
In 2020, two-year colleges primarily focused their institutional HEERF funding on campus priorities (69%), whereas four-year institutions prioritized student reimbursement and relief. Four-year institutions allocated over half of their 2020 funding to reimbursements and eliminating student account balances (see Figure 3), while community colleges utilized funds to cover pandemic-related expenses, such as instructional software, equipment, training, and campus safety. Both sectors allocated between 16% and 23% of their 2020 funds as additional grant aid to students.
By 2021, colleges or universities used nearly all their institutional funds for campus-related purposes. In the second year of the pandemic, colleges and universities had clearer guidelines on permissible uses of funds and cost accounting for lost revenues. Nearly all institutional funds were directed towards these campus-related purposes, accounting for approximately 90% or more of the total. Additional grant dollar disbursements to students remained consistent, but due to the availability of more HEERF funds, they represented a smaller portion of institutional funding (7% or less).
Colleges and universities initially used half of their institutional funds to transition to a new learning environment, but by 2021 largely used HEERF to plug funding holes. During the initial year of the pandemic, institutions utilized HEERF funding admirably by swiftly transitioning to online learning, providing necessary technology and training (29%), and implementing COVID-19 safety measures to ensure the smooth operation of campuses (22%) (see Figure 4). However, as HEERF funds continued to flow, institutions predominantly used the funding to address immediate financial gaps (67%) rather than reevaluating their business models for long-term sustainability.
Looking Ahead: A Missed Opportunity for Transformation?
HEERF funding provided a lifeline for higher education institutions during the pandemic, enabling them to navigate immediate challenges. As current students weighed taking a year off and new students considered postponing their first year, institutions used HEERF to quickly pivot to online course offerings, and equip students, faculty, and staff
with the technology to operate remotely, and invest in COVID safety precautions on campuses.
However, HEERF spending suggests the opportunity for long-term transformation was not fully embraced by many institutions. As we've now seen, the pandemic has had lasting shifts across society and higher education. The 'return to normal' that so many institutions hoped and planned for is not occurring, or at least not occurring quickly enough to stabilize budgets as the federal infusion of resources ends.
Many institutions can expect strained finances in the coming years as student enrollments are projected to further decline over the next decade. With the opportunity to use HEERF to fund transformation behind them, institutions will need to continue to focus on internal restructuring of their business model and reallocation of existing resources to drive transformation. Will the coming financial challenges be enough to force needed change? Time will tell.